Climate Analytics is a non-profit climate science and policy institute based in Berlin, Germany with offices in New York, USA, Lomé, Togo and Perth, Australia, which brings together interdisciplinary expertise in the scientific and policy aspects of climate change. Climate Analytics aims to synthesise and advance scientific knowledge in the area of climate, and by linking scientific and policy analysis provide state-of-the-art solutions to global and national climate change policy challenges.
NewClimate Institute is a non-profit institute established in 2014. NewClimate Institute supports research and implementation of action against climate change around the globe, covering the topics international climate negotiations, tracking climate action, climate and development, climate finance and carbon market mechanisms. NewClimate Institute aims at connecting up-to-date research with the real world decision making processes.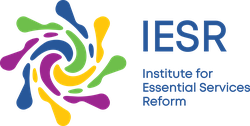 Institute for Essential Services Reform (IESR) is a think-tank in the field of energy and environment, IESR encourages transformation into a low carbon energy system by advocating a public policy that rests on data-driven and scientific studies, conducting capacity development assistance, and establishing strategic partnerships with non-governmental actors. IESR's main scope is to accelerate the energy transition by supporting sustainable mobility, green economy, and climate change policy. To support the achievement of the goals that have been set, IESR conducts analysis, research, public policy advocacy, as well as campaigns towards the specific issues around the energy transition. In addition, IESR also carries out capacity building and provides technical assistance to local and regional governments to help the alignment with national goals to reduce carbon emission. IESR has experience mainly in Indonesia, but is expanding its focus to work in other regions and countries.
The Potsdam Institute for Climate Impact Research (PIK), founded in 1992, is a world-leading research institute addressing crucial scientific questions in the fields of global change, climate impacts and sustainable development. PIK is part of a global network on questions of global environmental change and collaborates closely with many national and international partners.

PIK (Potsdam Institute for Climate Impact Research) is a collaborator of the project as scientific advisor and data provider. The global aggregation and pathway extension methodology and tools were developed by PIK as partner in the project between 2009 and 2016. The consortium has now absorbed activities previously performed by PIK. The global aggregation and climate modelling methods from PIK are still used for the CAT temperature calculations and emissions data from the PIK PRIMAP emissions module are used for the country analysis.
Ecofys, a Navigant company, a leading international energy and climate consultancy focussed on sustainable energy for everyone was founded in 1984. The company has been a trusted advisor to governments, corporations, NGOs, and energy providers worldwide. In 2016, Ecofys joined Navigant and is now integrated in this global consultancy.

Navigant Consulting is a specialised, global professional services firm that helps clients take control of their future. With over 600 consultants, Navigant's global Energy practice is the largest energy and sustainability consulting team in the industry. Navigant collaborates with utilities and energy companies, governments and NGOs, large corporations, product manufacturers, tech vendors, and investors to help them thrive in a rapidly changing energy environment.

Ecofys was a founding member of the Climate Action Tracker from its beginnings in 2009, and a member of the consortium from 2009 to 2019. The Ecofys team co-created the Climate Action Tracker's country assessment and rating methodology, and contributed strategic direction and sectoral expertise.
Stay informed
Subscribe to our newsletter