COP28 initiatives will only reduce emissions if followed through
Read our assessment on the likely impact of new initiatives announced at COP28
Find out more
No change to warming as fossil fuel endgame brings focus onto false solutions
Read our latest Global Temperature Update
Find out more
State of Climate Action 2023
Read the world's most comprehensive roadmap of how to close the global gap in climate action across sectors
Find out more
Pulling the plug on fossils in power
Read our analysis on how countries compare to 1.5°C compatible benchmarks for the power sector
Find out more
1.5°C compatible benchmarks for the power sector
View our latest benchmarks for fossil gas, coal and renewables
Find out more
Climate Target Update Tracker
We will be tracking governments as they update their Paris Agreement targets, and calling out those who are not planning to do so.
Find out more
Credibility of net zero targets
View our nuanced and transparent assessments of national net zero targets
Find out more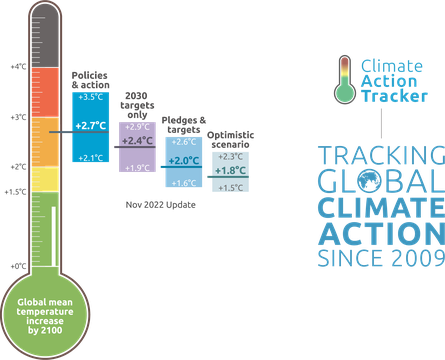 About Climate Action Tracker (CAT)
The Climate Action Tracker is an independent scientific project that tracks government climate action and measures it against the globally agreed Paris Agreement aim of "holding warming well below 2°C, and pursuing efforts to limit warming to 1.5°C."
Find out more
Looking for data on decarbonisation?
Explore our Data Portal
Find out more
Stay informed
Subscribe to our newsletter