1.5°C consistent benchmarks for the United States future NDC
If the Biden Administration wants the US to be a climate leader, its new 2030 Paris Agreement target should aim for national emissions reductions of at least 57-63% below 2005 levels
Find out more
1.5°C consistent benchmarks for Japan's NDC
Economy-wide and sector-level benchmarks in 2030 and beyond, consistent with the Paris Agreement's long-term 1.5°C warming limit
Find out more
Global Update - Paris Agreement Turning Point
Read our briefing on how net zero targets would bring warming to 2.1°C
Find out more
Climate Target Update Tracker
We will be tracking governments as they update their Paris Agreement targets, and calling out those who are not planning to do so.
Find out more
Climate Governance Series
Read our new analysis for Ethiopia and our updated assessment of Kenya and South Africa
Find out more
Country updates
The latest country assessment updates for Bhutan, The Gambia, Kazakhstan, Kenya, Nepal, Peru, the Philippines, Switzerland, UAE and Viet Nam are now available.
Find out more
Scaling up Climate Action: Australia
Australia can move to net-zero emissions by 2050 and would benefit from it: Read our latest report.
Find out more
Paris Agreement Compatible Sectoral Benchmarks
What should sectoral benchmarks be for different governments and different baselines? Will they meet the global carbon budget?
Find out more
CAT Analysis - Response to COVID 19 Pandemic
How green economic stimulus packages can be designed to help the post COVID-19 emissions curve?
Find out more
Scaling Up Climate Action Series
Read our analysis for Argentina, Australia, the European Union, Indonesia, South Africa and Turkey on each countries potential to ramp up emissions reduction efforts and which sectors they should focus their attention on.
Find out more
CAT Decarbonisation series
How can each sector transform to achieve the emissions reductions required under the Paris Agreement?
Find out more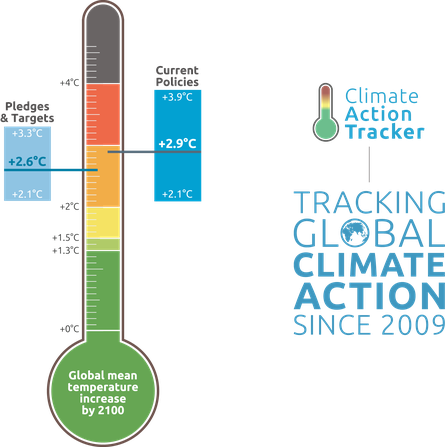 About Climate Action Tracker (CAT)
The Climate Action Tracker (CAT) is an independent scientific analysis produced by two research organisations tracking climate action since 2009. We track progress towards the globally agreed aim of holding warming well below 2°C, and pursuing efforts to limit warming to 1.5°C.
Find out more
Looking for data on decarbonisation?
Explore our Data Portal
Find out more
Stay informed
Subscribe to our newsletter