Massive gas expansion risks overtaking positive climate policies
CAT Global Update on goldrush for gas and progress since Glasgow
Find out more
Upcoming virtual event
What's next for the African continent? Charting a path to ambitious climate action in 2023
Find out more
State of Climate Action 2022
Systems Transformations Required to Limit Global Warming to 1.5°C
Find out more
COP27 presidency - Egypt's updated NDC
Read our latest analysis on Egypt's updated NDC
Find out more
Assessing Climate Governance in Senegal
Read our latest analysis on the state of Senegalese climate governance
Find out more
Assessing Climate Governance in Rwanda
Read our latest analysis on the state of Rwandan climate governance
Find out more
Natural Gas in India
Read our analysis on how aligning with a 1.5°C pathway would reduce India's dependency on gas
Find out more
Natural Gas in Africa
Read our analysis on why fossil fuels cannot sustainably meet the continent's growing energy demand
Find out more
Decarbonising buildings: achieving zero carbon heating and cooling
Read our latest report on decarbonising the buildings sector
Find out more
Credibility of net zero targets
View our nuanced and transparent assessments of national net zero targets
Find out more
Climate Target Update Tracker
We will be tracking governments as they update their Paris Agreement targets, and calling out those who are not planning to do so.
Find out more
Paris Agreement Compatible Sectoral Benchmarks
What should sectoral benchmarks be for different governments and different baselines? Will they meet the global carbon budget?
Find out more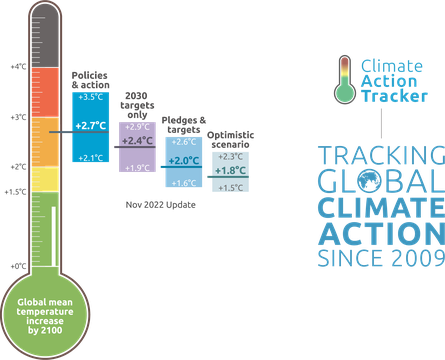 About Climate Action Tracker (CAT)
The Climate Action Tracker (CAT) is an independent scientific analysis produced by two research organisations tracking climate action since 2009. We track progress towards the globally agreed aim of holding warming well below 2°C, and pursuing efforts to limit warming to 1.5°C.
Find out more
Looking for data on decarbonisation?
Explore our Data Portal
Find out more
Stay informed
Subscribe to our newsletter