Published 2021/04/20
Phasing out fossil fuel vehicle sales by 2030 will help to make US transport sector policy 1.5°C compatible
Summary
Recently-proposed US road transport decarbonisation policies are insufficient for reaching the 1.5°C Paris Agreement temperature goal
A 2030 phase-out of fossil fuel light duty vehicle sales in the US would be 1.5°C compatible, and combined with targeted support for zero emission vehicle infrastructure development, is one of the most effective potential policy options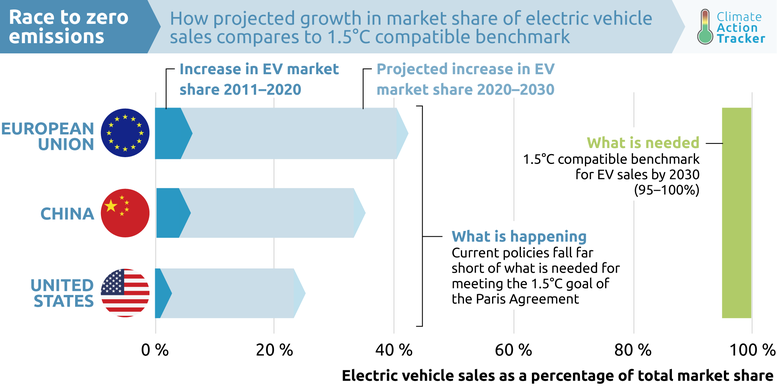 The data, projections, and benchmarks, for EV market share shown above, as well as for many other indicators and countries can be found on the CAT data portal
CAT Blog
When Joe Biden was elected the 46th President of the United States in November 2020, federal government policies to help catalyse the uptake of zero emission vehicles were in retreat. While existing tax credits are manufacturer based and ongoing for most manufacturers, an extension to the federal electric vehicle (EV) tax credit was removed from a $1.4 trillion spending bill at the end of 2019, and vehicle fuel economy standards were significantly weakened in March 2020.
The US transport sector is now its largest emitting sector, meaning a rapid electrification of road transport is necessary to achieve the Paris Agreement's goal of limiting average global warming to 1.5°C. The Biden administration must therefore be bold in pursuing a phase-out of fossil fuel vehicle sales in addition to recently proposed measures. This needs to be achieved in lockstep with a rapid decarbonisation of the US power system, something President Biden has ambitiously targeted to achieve by 2035.
So far, President Biden has signed an executive order directing federal officials to electrify the federal government's 650,000 vehicle fleet, and pledged to overhaul vehicle emission and fuel economy standards. In addition, as part of his wide-ranging infrastructure plan that must still pass through congress, he has proposed a $174 billion investment to construct 500,000 new charging stations across the US by 2030, replace at least 20% of school buses with electric models, extend the EV tax credit and fund an increase in battery R&D.
While this marks a significant change in trajectory from the previous administration, the policy that has the greatest transformational potential in this sector and remains absent from President Biden's plan is a phase-out of the sale of fossil fuel vehicles. Such a policy sends a strong signal to manufacturers and provides the investment certainty to encourage the vast levels of R&D spending needed to develop zero emission vehicle models.
Numerous countries have decided to do just that, with major economies France and Spain announcing 2040 bans, while the UK and a host of smaller European countries have targeted 2030 or even 2025 in the case of Norway, a country that saw a 54% EV share of car sales in 2020. The US states of Washington (2030), California (2035), and Massachusetts (2035) have also announced bans, and GM, one of the big three US manufacturers recently pledged to only sell electric light duty (LDV) vehicles by 2035.
In a 2020 analysis by the Climate Action Tracker, also featured in our comprehensive data portal tool, we determined that US alignment with the Paris Agreement's 1.5°C temperature goal would require 95-100% of LDV sales to be EVs by 2030. Under current policies, however, it is projected that by 2030 just 25% of LDV sales will be electric. Rapid EV range advancements in recent years has resulted in a number of current models that can travel more than 300 miles on a single charge, meaning that by 2030, range anxiety will well and truly be a thing of the past.
The US, which until the Trump administration's hostility towards EVs was a world leader in electric vehicle uptake, has fallen behind both the EU and China in EV share of LDV sales in the last couple of years. Battery electric vehicles (BEV) made up just 1.8% of US sales in 2020, compared to 5.1% in China, and 5.3% for the EU. These strong sales are largely a result of significant policy interventions in China, at the EU level, and within key EU member states.
For example, a steep rise in EU EV sales between 2019 and 2020 coincided with the entering into force of the EU fleet-wide average emission target for new cars of 95g CO2/km (57 mpg of petrol, 65 mpg of diesel) and ambitious member states increasing the financial incentives for EV. A penalty on manufacturers of €95 for each g/km of target exceedance has been in place since 2019. This combination of strong EU and member state policies places the EU on track to achieve a projected 42% share of EV sales by 2030.
In comparison, recently-weakened fuel economy standards in the US require the average fuel economy of its vehicle fleet to hit just 40 mpg by 2025, down from 54.5 mpg previously.
In China, a suite of policies at the national and local level over the last decade has resulted in steadily rising EV sales, and have supported the development of a thriving domestic manufacturing industry. Generous subsidies in place for many years are being rolled back as EV demand firms, replaced by production quotas that favour domestic producers at the expense of imports. Under current policies the share of EVs in total sales is projected to reach 35% by 2030, short of China's mandated target of 40%, but far above the US's projected 25%. With a concerted push to support the domestic EV industry and ratchet up policies, however, the US can recapture its role as a world leader in the electrification of road transport.
Within the US, the state of California has been tackling road transport decarbonisation for over 30 years and provides a demonstration of what is possible nationally, having initiated its Zero Emission Vehicle (ZEV) Program in 1990. The regulation has been continuously updated and expanded over time, and its latest iteration requires 22% of LDV sales to be ZEVs by 2025. It has implemented a slew of other supportive policies including its own tax credit in addition to the federal one, government fleet vehicles requirements, favourable highway and parking access, component replacement rebates, and in January 2021 an executive order to end the sale of internal combustion passenger vehicles by 2035. An aggressive expansion of California's public charging network has ensured EV owners can easily travel throughout the state, alleviating the range anxiety that has previously acted as a perceived barrier to EV uptake.
If President Biden is serious about his pledge to place mitigating climate change at the forefront of his political agenda and to put the US at the forefront of the industrial revolution needed to get there, he must follow the lead of an increasing number of countries around the world and California and commit to phasing out the sale of fossil fuel vehicles in addition to the measures already announced. The world leading performance of domestic EV manufacturing titan Tesla and GM's recent pivot to 100% EV sales by 2035 provides considerable tailwinds that President Biden can ride, returning the US to the vanguard of the EV transition.
A 2030 ban on fossil fuel LDVs, something that the US state of Washington has already embraced, would make the US a frontrunner on road transport decarbonisation, would be compatible with the Paris Agreement's 1.5°C temperature goal, and should therefore be implemented as part of the administration's current push to strengthen US climate policy.
Stay informed
Subscribe to our newsletter