Published 2021/05/10
CAT Analysis: Germany's proposed 2030 target not yet 1.5°C compatible
Press release
Diese Analyse ist auch auf Deutsch verfügbar.
A Paris Agreement-compatible target for Germany would be emissions reductions of at least 69% by 2030, more than the 65% that was announced last week, according an analysis released by the Climate Action Tracker today
The CAT warned that Germany needs to ramp up policies to achieve these new targets in all sectors, especially electricity and transport.
"Germany's proposed 2030 targets are not quite there in terms of Paris Agreement compatibility, and our 1.5˚C benchmark modelling shows the government's targets for coal, renewables and especially transport are deficient," said Niklas Höhne of NewClimate Institute.
"With the proposed 65% reduction target, Germany would not reduce its emissions at the speed that would be necessary globally for the 1.5°C limit. With its comparatively high economic power and responsibility, one could expect that Germany should reduce emissions faster than the global average."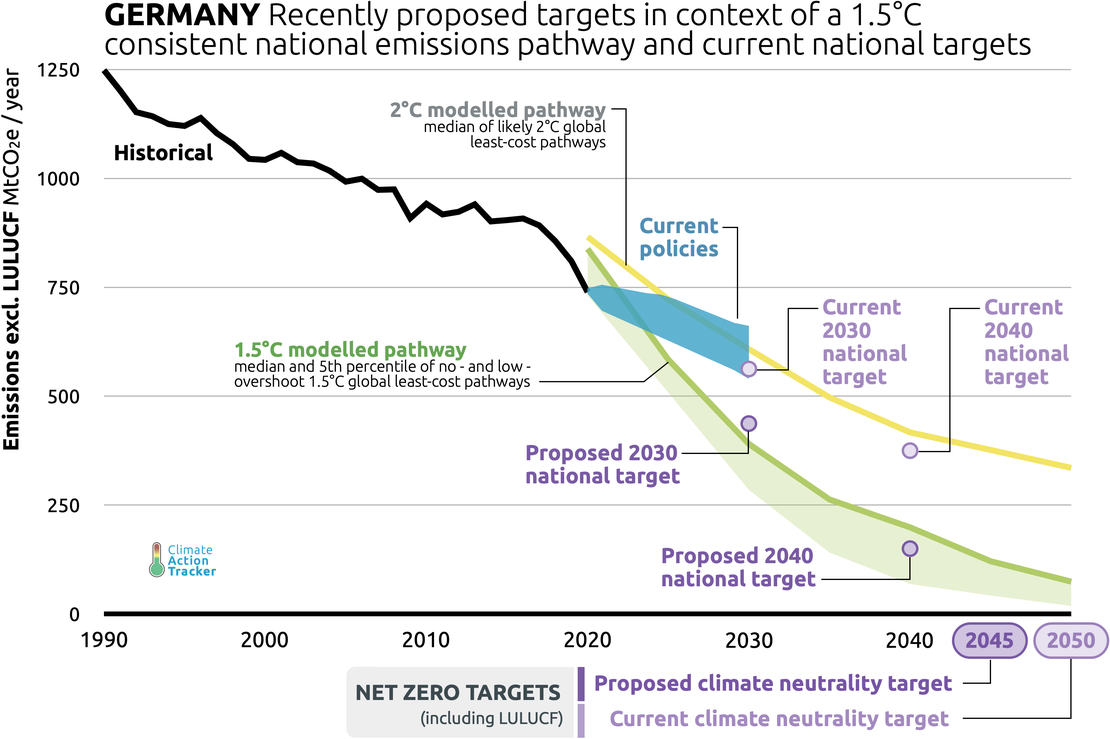 According to the CAT's benchmark modelling, Germany's renewable energy goal of 65% renewable electricity generation is not Paris Compatible and would need to be around 90% or more renewable by 2030. Equally, the 2038 coal phase-out date is not fast enough - the country needs to fully phase out coal by 2030.
Germany's biggest issue with climate change is transport, where emissions still need to drop substantially. Even measures proposed in the Climate Action Programme would still leave a gap of more than 30 or 40 MtO2e/year under the current and proposed sectoral target, respectively. The current policy packages would lead to an uptake of electric vehicles of around five million by 2030, corresponding to only 30% of new cars sold in 2030 being EV's, when a Paris Agreement benchmark would be 95-100%.
Bringing forward the date by which Germany would achieve climate neutrality to 2045 from 2050 is a good move, but the CAT warns that the wrong implementation of this target could bring issues with negative emissions and offsets.
"Germany is being heralded as a global leader by bringing its net zero date forward to 2045, but this goal is not without its difficulties, and may have to involve, in our calculations, negative emissions of around 50-100 megatonnes of carbon dioxide equivalent a year, which brings with it a number of constraints around sustainability," warned Bill Hare of Climate Analytics.
"The models do not show an easy path to net zero for Germany by 2045, especially with the agriculture sector, where the land sector's uptake of carbon is projected to be a source by the mid-2030s."
The CAT warns that this could lead to the temptation to deploy so-called offsets, which were unlikely to be real emission reductions, and may simply displace the need for reaching net-zero greenhouse gas emissions physically to another country or region.
Stay informed
Subscribe to our newsletter