Published 2022/06/08
Analysis: Dash for gas in response to Russia/Ukraine crisis could lock in warming
Press release
In the wake of Russia's illegal invasion of Ukraine, the rush to build new gas infrastructure around the world to replace Russian supplies will either lock the world into irreversible warming, or create a mass of stranded assets, according to new analysis released by the Climate Action Tracker (CAT) today.
The CAT has looked at government responses to the global energy crisis, and found the majority of them have moved to lock in more fossil energy rather than taking other steps that would ultimately assist them to decarbonise their economies.
"We're about to witness a global "gold rush" for new fossil gas production, pipelines and LNG facilities, risking locking us into another high-carbon decade and keeping the Paris Agreement's 1.5˚C warming limit out of reach," said Niklas Höhne of NewClimate Institute, a CAT partner organisation.
New planned LNG facilities in the EU (specifically Germany, Italy, Greece and the Netherlands) could result in the region's gas supplies being increased by a quarter more gas than it had before reducing gas imports from Russia.
Canada plans to fast track new LNG projects to increase exports.
The US has signed a deal to export additional LNG to the EU. Qatar and Egypt have signed similar deals with Germany and Italy, respectively. Algeria has signed a deal to export additional gas via pipeline to Italy.
In Africa, old gas pipeline projects are being revived (e.g. Nigeria) and countries with previously no fossil gas exports (e.g. Senegal) are now encouraged to supply gas to Europe.
Domestic fossil fuel production has increased in the US, Canada, Norway, Italy and Japan, and new long-term import contracts are closed or extended in the UK, Germany, Poland and Italy.
"The world missed the massive opportunity it had to use the post-pandemic recovery packages to support decarbonisation of their economies - and now it seems this will happen all over again, with this new crisis," said Bill Hare, CEO of Climate Analytics, the other CAT partner organisation.
"Something has to change: we cannot go on responding to short term shocks, be they pandemics or energy shocks from conflict, by taking steps that would increase emissions, ignoring the looming crisis of climate change."
The CAT has gone through a series of possible actions in response to the global energy crisis, both good and bad for the climate, and listed which countries have taken steps that would reduce emissions, such as increasing renewable energy, energy efficiency, incentivising use of public transport, and which countries have taken steps that would increase emissions.
It found a plethora of new gas projects, many of which would not be built in time to provide the energy the world needs right now, but which would, instead, both increase emissions in the long term, locking in carbon intensive infrastructure for decades into the future, undermining efforts to increase ambition by 2030 that were agreed as a priority in Glasgow.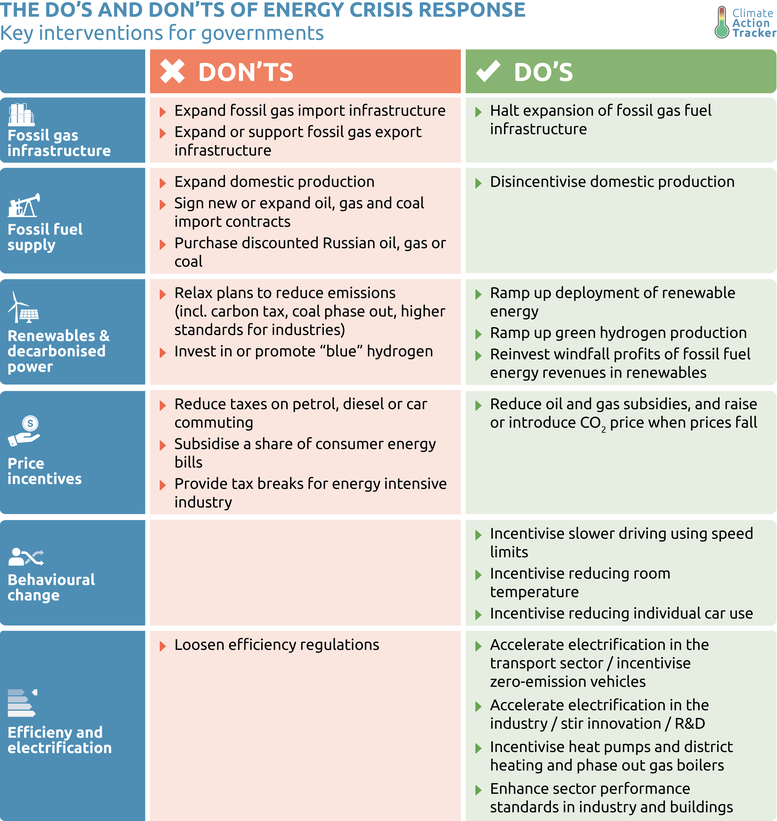 Stay informed
Subscribe to our newsletter