Proposed a stronger NDC target
Canada's stronger Paris Agreement target, announced at the US Leaders Summit on Climate on April 22, is to reduce emissions by 40-45% below 2005 by 2030. While the target is stronger than its predecessor, Canada's 'Insufficient' CAT rating would only change if the country ditched the less ambitious end of its target range. Moreover, Canada's climate plan to cut emissions, updated last December, will not reduce emissions enough to meet these new targets, nor will the further measures outlined in the 2021 Budget, released earlier this month, so further policy action is needed.
CAT analysis of NDC


The Prime Minister of Canada, Justin Trudeau, announced a new 2030 climate target at the US Climate Leaders' Summit on 22 April 2021. The new target is 40-45% below 2005 levels by 2030 (36-41% excl. LULUCF). While an improvement, the country's CAT rating remains 'Insufficient'.
The new target is 12-19% stronger than the original 30% target (28% excl. LULUCF), once the land sector contribution is excluded. In absolute terms, the stronger target is 61-97 MtCO2e lower than the original, dropping from 526 MtCO2e to 428-465 MtCO2e (excl. LULUCF). Even though Canada has proposed a stronger target than previously, its less ambitious bound, upon which the CAT rating is based, is not sufficient to improve the country's CAT rating. If, however, the government were to adopt the stronger target of 45% (41% excl. LULUCF), it would become '2°C Compatible'.
The new target is stronger than the range proposed by Prime Minister Justin Trudeau at last December's Climate Ambition Summit - a 32-40% reduction below 2005 levels by 2030 (28-36% excl. LULUCF).
The CAT anticipates that under current policies Canada's emissions will be between 603-630 MtCO2 in 2030, including the temporary drop in emissions from the pandemic. Canada released a revised climate plan last December; however, the revision only slightly exceeded the old target. Further measures have been proposed in the federal budget tabled earlier in April, but these would not reduce emissions enough to meet the target announced at the Summit.
Canada does not have a great track record with meeting targets. Developing and implementing a plan to meet the new targets is critical to its credibility.
Canada is in the process of enshrining its 2050 net zero GHG emissions target into law, introducing the necessary legislation late last year. Canada should look to further strengthen its NDC target before COP26 in Glasgow later this year to both put it on a path to meeting its net zero target and 1.5°C compatibility.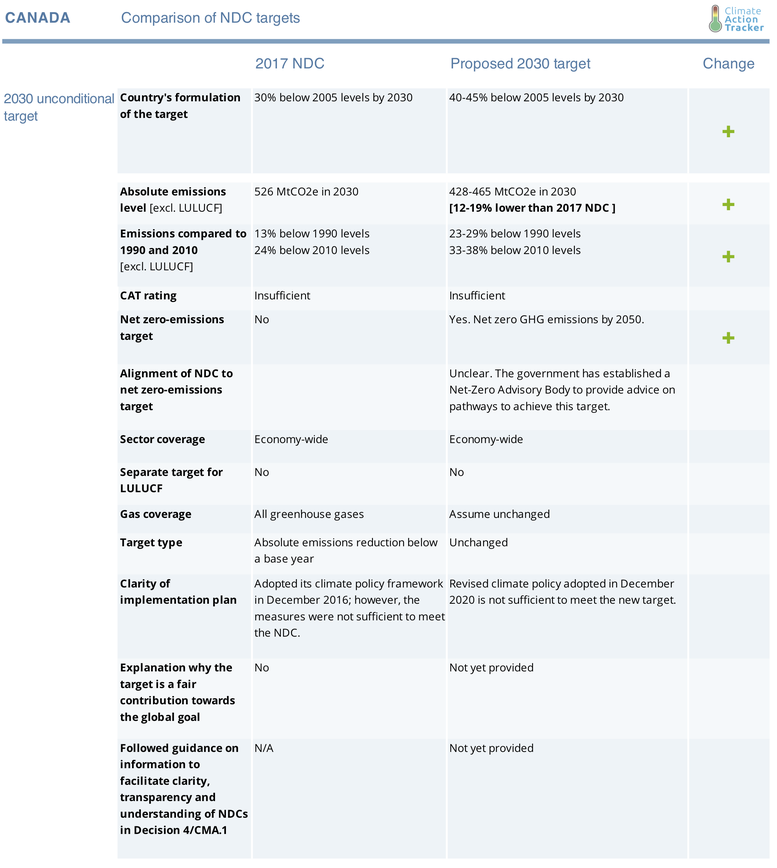 Assumptions
We have used the figure provided for LULUCF, nature-based solutions and agriculture measures provided for in Canada's 2020 emissions projections report for its new climate plan as our estimate for LULUCF emissions.
Stay informed
Subscribe to our newsletter