CAT Climate Target Update Tracker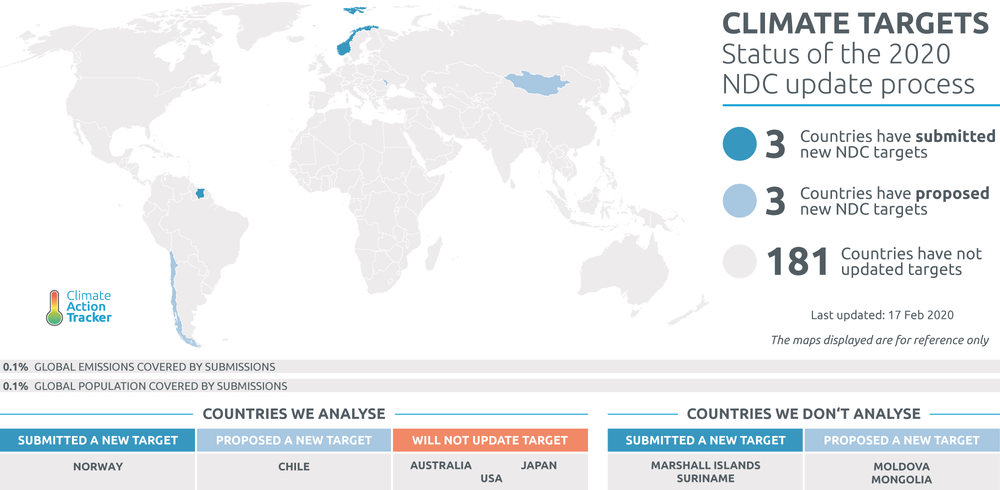 Countries with submitted or proposed NDC updates
Last update: 17 February 2020
When the gavel came down on the Paris Agreement in 2015, governments formally acknowledged that their national climate targets collectively would not meet the goal of limiting warming to 1.5˚C. So they undertook to do the first update of their 2030 targets which are part of a country's "nationally determined contribution" (NDC) by 2020, backed by the IPCC Special Report on 1.5˚C, which was completed in October 2018.
The Climate Action Tracker is tracking these updated targets and, for the 36 countries we analyse, will provide a detailed analysis on how much of an improvement each updated target is, and how much it is aligned to the goals of the Paris Agreement. Countries that are not part of the 36 CAT countries and that put forward or propose updated targets for 2030 will be listed but not analysed.
The most important mitigation element of an updated target, in our view, is the emission levels in the target year, because this is "what the atmosphere sees". To be viewed as making progress, an updated NDC must result in lower emission levels than the previous one. Under the Paris Agreement governments have universally agreed that successive NDCs should reflect a country's highest possible ambition and represent a progression beyond the current NDC and contribute toward meeting the Paris Agreement's 1.5˚C warming limit.
In Paris, governments also agreed to submit long-term strategies by 2020 and more than a dozen countries have done so. A growing number of governments have also adopted mid-century net-zero targets. While these developments are encouraging it is critical that 2030 targets are aligned with pathways that can meet mid-century net-zero targets. The IPCC SR1.5 has shown that if the required emission reductions for 2030 or not met then the ability to limit warming to 1.5˚C is compromised. In a number of cases mid-century net-zero targets are not matched by 2030 targets consistent with their achievement.
The Climate Action Tracker will also monitor governments who have signalled an intent not to update their NDCs in 2020. Not updating NDCs by 2020 with an increase in ambition is a clear violation of the decisions to give effect to the Paris Agreement made at the time of its adoption in 2015 (Decisions 1/CP.25 paragraphs 23 and 24) and of the relevant provisions of the agreement (Article 4.3) which requires Parties successive NDC submissions to be more ambitious. Simply resubmitting or recommunicating an NDC without improving ambition significantly also qualifies in this category.
Note: If you have more up-to-date information, please contact us via info@climateactiontracker.org.

Norway
Norway submitted NDC update
Submitted: 7 February 2020


Norway's updated Nationally Determined Contribution, submitted in time for the Paris Agreement deadline, represents progress beyond its previous submission, but is still not compatible with the Paris Agreement's 1.5°C limit.
Under its updated NDC, Norway will cut emissions by at least 50% by 2030, aiming towards 55% below 1990 levels (47-52% excluding LULUCF net removals), an improvement compared to its previous target of an 'at least 40%' cut (37% excluding LULUCF net removals).
While Norway's updated NDC will result in deeper emission reduction cuts, the scale of change is not enough to improve its "insufficient" CAT rating: both original and updated NDCs fall within this range.
Norway is to be commended for submitting its NDC by the deadline of nine months ahead of COP. However, it still has a way to go before it reaches its highest possible ambition and Paris Agreement compatibility.

Moldova
Moldova released the final draft of its NDC update
Release date: 24 January 2020
Moldova released the final draft of its updated Nationally Determined Contribution on 24 January 2020.

Suriname
Mongolia
Mongolia proposed NDC update 2019
Release date: 22 November 2019
Mongolia released its draft NDC update at a stakeholder forum on 22 November 2019.

Chile
Release date: 16 October 2019


Chile has released its new draft NDC for consultation. It refers to economy-wide emissions excluding the Land Use, Land Use Change and Forestry (LULUCF) sector. It provides targets in terms of absolute emissions, includes a carbon budget between 2020 and 2030 and a peak in emissions by 2027.
This proposed absolute unconditional NDC target for 2030 is more ambitious than the earlier intensity target Chile submitted in 2015, and could bring its pledge towards a fair share. By moving to an absolute emissions target instead of one based on emissions intensity of GDP, and specific differential targets for the LULUCF sector, Chile has added transparency to its commitment.
Chile has also updated its conditional target for 2030. Depending on the assumptions made and if it were unconditional, this target could be rated either "2°C compatible" or "1.5°C Paris Agreement compatible."

Marshall Islands
Marshall Islands's submitted NDC update 2018
Submitted: 22 November 2018
The Republic of the Marshall Islands submitted its second and updated Nationally Determined Contribution on 22 November 2018.
Crisis, what climate crisis?
The governments below have clearly signalled an intent to not update their NDC 2030 target or have signalled that they will only recommunicate their existing NDC by 2020 with no significant change in emissions ambition. The Climate Action Tracker will pleased to remove countries from this list as soon as they have clarified their position and commit to submitting improved NDCs in 2020.

Japan
Japan's reluctance to update its NDC - media reports
21 November 2019
Japanese media report that multiple government sources have intended Japan is leaning towards resubmitting its NDC with the current level of climate action: a 26% reduction in emissions below 2013 levels in 2030.
The CAT rates Japan's NDC as 'Highly Insufficient'. Maintaining the same level of emission reductions would violate the Paris Agreement that each successive NDC should present a progression beyond the current one.

USA
The U.S. withdrawal from the Paris Agreement
4 November 2019
On 4 November 2019, the State Department began the process of withdrawing from the Agreement. The request to withdraw from the Paris Agreement is a significant addition to the series of rollbacks in climate policy that could increase GHG emissions.
This followed President Trump's June 2017 announcement that the United States would pull out of the Paris Agreement. This was the first major step in his campaign to systematically walk back US federal climate policy, weakening efforts from the previous administration to reduce greenhouse gas (GHG) emissions.
The CAT rates the U.S. as 'Critically Insufficient' on account of its intended withdrawal from the Agreement. The U.S. will remain in this section until such time as it rescinds its withdrawal and put forwards a strengthened NDC.

Australia
Australian Prime Minister Morrison unwilling to commit to a new target
11 September 2019
The Australian Prime Minister Scott Morrison failed to respond to a direct question as to whether Australia would increase 2030 target to avoid exceeding 1.5°C, only noting that the country would exceed its 2020 Kyoto target and meet others. Its Environment Minister has stated in December 2018 that the country will not update its 2030 target. In response to media inquiries as to whether the government would offer new commitments, a spokesperson for the Prime Minister stated the country had "already outlined our policies" for 2030.
Australia will only meet its 2020 target due to the carryover of emission reduction units, rather than serious climate policy. The CAT rates Australia's NDC as 'Insufficient'. Maintaining the same level of emission reductions in a resubmitted NDC would violate the Paris Agreement that each successive NDC should present a progression beyond the current one.
Stay informed
Subscribe to our newsletter