Did not increase ambition*
Japan's revised NDC expected in 2021 will be a test for the nation's seriousness on its 2050 net zero goal and its consistency with the Paris Agreement
Japan started the process to revise its NDC in September 2020. Key question is whether the revised NDC would be consistent with the nation's 2050 net zero GHG emissions commitment and the Paris Agreement 1.5°C temperature limit. As of December 2020, CAT rating of Japan's NDC remains 'Highly Insufficient' based on the resubmission of the first NDC in March 2020.
CAT analysis of NDC update


In September 2020, the Ministry of Economy, Trade and Industry (METI) and the Ministry of Environment (MOEJ) began a process to revise the 2030 energy mix and GHG mitigation target1. This follows the statement by the Minister of the Environment, Shinjiro Koizumi, in March 2020 that the country will later communicate a more ambitious NDC upon resubmitting its 'highly insufficient' first NDC, of 26% below 2013 levels by 2030.
Japan will very likely submit a revised NDC in 2021 that is more ambitious than the current one. However, as Prime Minister Yoshihide Suga declared in October 2020 that Japan will aim for net zero greenhouse gas (GHG) emissions by 2050, the question is whether the revised NDC for 2030 would be ambitious enough to keep the nation's net zero commitment a credible one and be in line with the Paris Agreement 1.5 limit.
[1]
METI (2020). First meeting of the MOE/METI joint advisory council working group on the mid- to long-term climate change countermeasures. 1 September, 2020. In Japanese. Available at: https://www.meti.go.jp/shingikai/sankoshin/sangyo_gijutsu/chikyu_kankyo/ondanka_wg/001.html [Accessed September 4, 2020].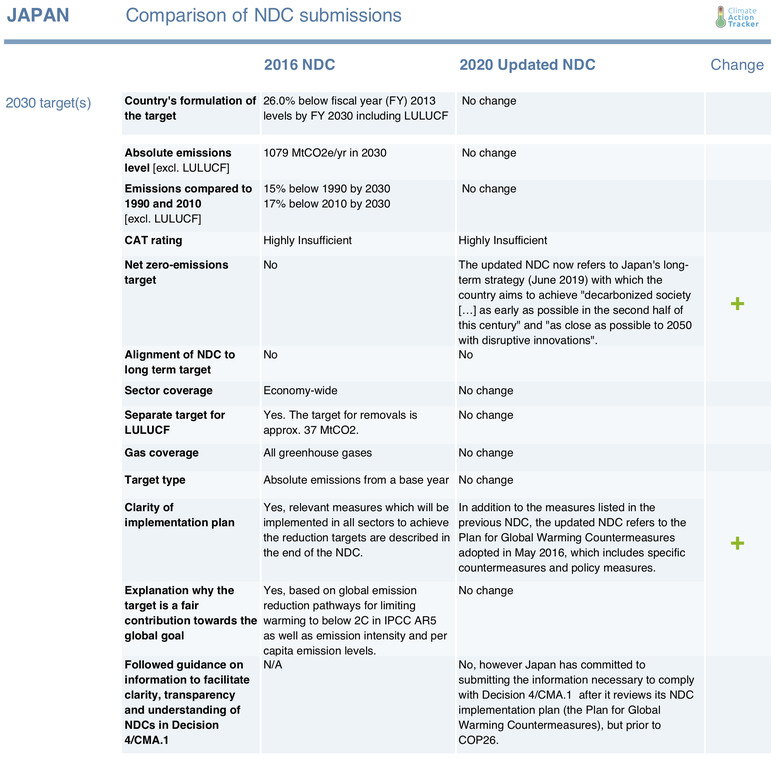 High resolution
Stay informed
Subscribe to our newsletter