Did not increase ambition*
New Zealand commits to no new climate action in Earth Day NDC update
New Zealand submitted its updated NDC in April 2020. The update did not strengthen the country's 2030 target, which the CAT rates as 'Insufficient'. New Zealand did hint at the possibility that it could strengthen the target in 2021; however, this is not in line with the agreed ratchet up cycle under the Paris Agreement.
Scroll down for a detailed analysis of New Zealand's NDC update or click the button to view the latest CAT assessment for New Zealand.
CAT analysis of NDC


On April 22, the 50th Anniversary of Earth Day, New Zealand submitted an NDC update that will do nothing for the planet. The submission did not contain a stronger 2030 economy-wide target and only hinted that such an update could come in 2021 based on scientific advice requested by the government about whether the current NDC target is consistent with the Paris Agreement's 1.5°C limit. This is a missed opportunity to raise the ambition of the NDC target in 2020.
The CAT rates New Zealand's current NDC as 'Insufficient'. The country is not on track to meet its target, a 30% reduction below 2005 levels by 2030 (25% below 2005 levels excluding LULUCF accounting).
Last year, New Zealand adopted its Zero Carbon Act, a good step forward. The legislation enshrined the country's 2050 net zero emission reduction target into law (with a separate target for biogenic methane emissions, which represent close to 40% of New Zealand's current emissions) and established an independent Climate Change Commission to provide advice to government on the transition to a low-emissions economy . The Minister for Climate Change has requested the Commission to provide advice on whether and how the NDC should be changed to make it consistent with 1.5°C. All of which is recounted in its NDC update.
The Commission is expected to provide this advice in 'early 2021'. The advice, and any possible action taken by the government in response to it, will occur after the Paris Agreement's deadline to update NDCs by 2020. To truly be a climate leader, New Zealand should resubmit a stronger 2030 target by the end of this year.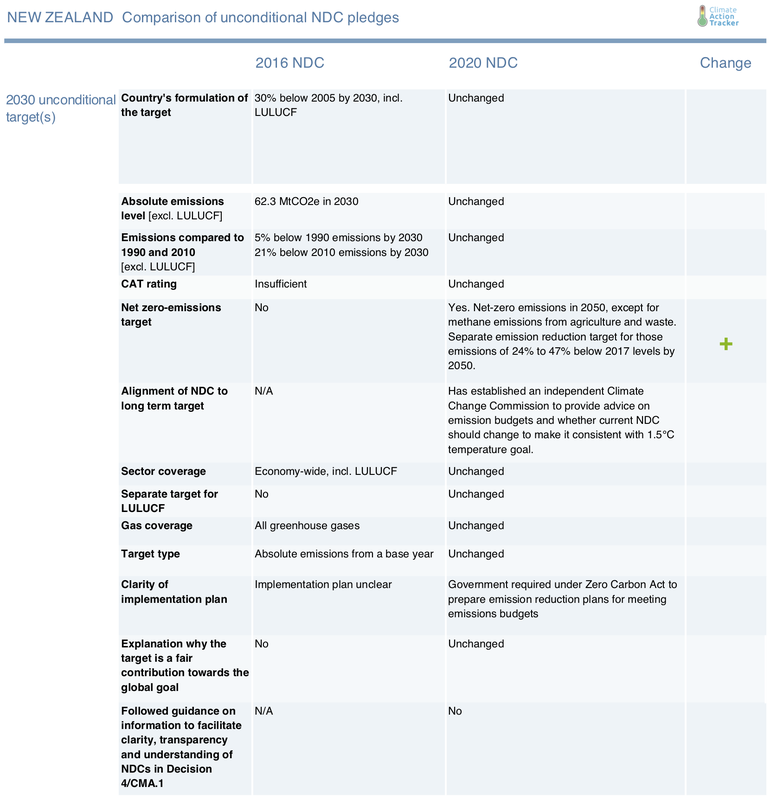 High resolution
Stay informed
Subscribe to our newsletter