Proposed a stronger NDC target
Ukraine announces more ambitious NDC and plans for net zero target, but still lacks 1.5°C ambition level
Ukraine announced its updated NDC on December 12 2020. The update significantly strengthens the country's 2030 target but still falls short of achieving a 1.5°C-compatible ambition level, moving the CAT rating from "Critically Insufficient" to "Insufficient". President Zelensky further states that Ukraine plans to pursue carbon neutrality as a long-term goal.
CAT analysis of NDC announcement


On 12 December 2020 at the Climate Ambition Summit, President Volodymyr Zelensky announced Ukraine's intention to update its NDC target to a 58% - 64% reduction below 1990 levels by 2030. This target is a significant improvement of its previous target of at least a 40% reduction below 1990 level by 2030.
The CAT rates Ukraine's proposed second NDC target as "Insufficient" compared to a "Critically Insufficient" rating for its first NDC. For 2030 the new target provides an emissions level of 332-385 MtCO2e in comparison to 544 MtCO2e for the old NDC target.
The president indicated that the updated 2030 target will be achieved through aligning climate policy and legislation with the European Green Deal, particularly in the areas of hydrogen, renewables and the transformation of the coal sector.
Ukraine is currently working on finalising its NDC and it is unclear whether it will be submitted to the UNFCCC in 2020. We expect the document to contain more detailed information on mitigation plans and the relative contribution of various sectors, which would allow us to provide a more detailed analysis.
President Zelensky further stated that Ukraine will pursue carbon neutrality as a long-term goal, and that efforts will be made to ensure this takes as little time as possible, though no timeline or any further details were given.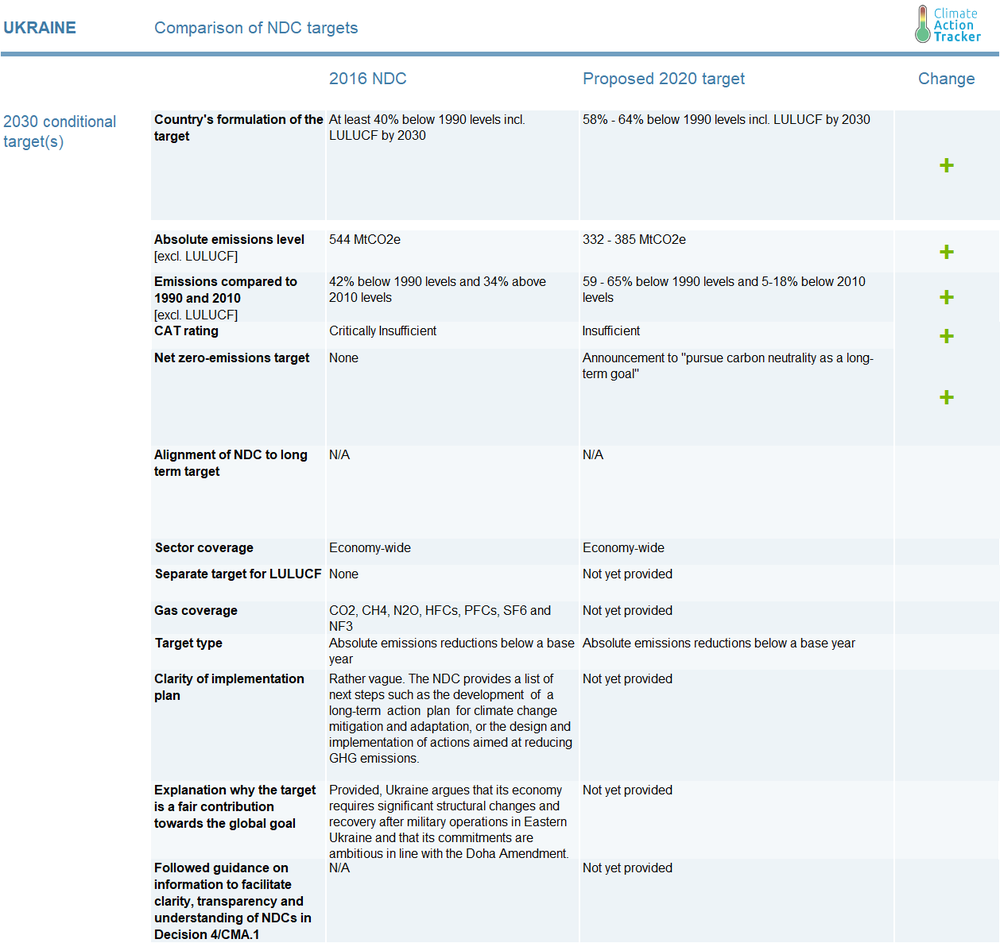 High resolution
Stay informed
Subscribe to our newsletter