Published 2019/06/19
Mid-year update: Climate crisis demands more government action as emissions rise
Press release
Bonn - 19 June 2019 -- Amid growing public concern as climate impacts start to bite, governments must take bold action to address the rise in greenhouse gas emissions, but most of them are not, said the Climate Action Tracker at the Bonn climate talks today, as it released its latest update of government action.
The CAT has updated its assessments of 24 of the 32 countries it rates.
"We are seeing an increasing number of Governments beginning to talk about net zero emissions by or before 2050, but we also know that we must halve global emissions by 2030 in order to keep the 1.5˚C goal alive, and most governments are nowhere near the action they need to take," said Professor Niklas Höhne of NewClimate Institute.
Global progress is stalling
Last year, energy-related carbon dioxide emissions reached an historic high, with more than a third of emissions from coal, but the fastest-growing source is from natural gas, which grew 4.6% from 2017 to 2018.
The US, India and China were responsible for 85% of the global rise in energy-related carbon dioxide emissions over the past year, and renewable energy additions have stagnated after 20 years of strong growth. Methane, a powerful greenhouse gas, has accelerated in recent years, likely due to increasing emissions from oil and gas production.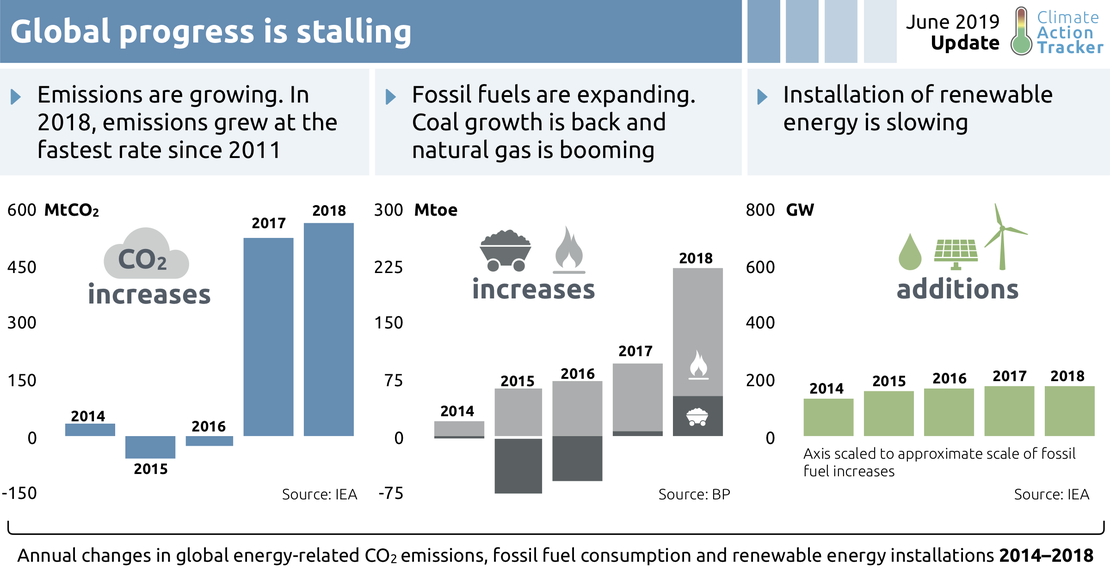 Public concern is growing as impacts start to bite
"Public concern is rising fast, with global movements like Fridays for Future and Extinction Rebellion pushing governments toward action as people take to the streets. As we turn from climate change to a climate crisis, the public priority is rising, and we expect Governments to take bold action," said Höhne.
"Emissions keep rising and impacts are being felt all around the world, with developing countries experiencing the brunt of these impacts – recent examples include devastating floods and loss of life in East Africa caused by Tropical Cyclone Idai, and record 50˚C temperatures in India" said Bill Hare of Climate Analytics.

Governments must strengthen their Paris targets
"Governments need to seriously step up their game. Yet we are seeing countries with 'critically insufficient' Paris targets so weak they'll be met without doing anything - Russia, Saudi Arabia, Turkey, and showing no signs of improvement. And there are others– for example Brazil and Australia and the USA, who are walking backwards from climate action."
There are key governments - the EU, China and India - who are likely to meet or exceed their Paris targets and can increase their action substantially as they haven't reached the level of 'highest possible ambition' as stated in the Paris Agreement.
Some positive signs
"Although the overall picture is not good there are signs of progress with a number of countries moving forward, including Costa Rica, Chile and the UK with new zero emissions targets and other actions," he said.
It has been reported that up to 80 countries may announce new targets later this year at the UN Secretary General's Summit in September, which is in preparation for 2020, when countries are expected to increase the ambition of their Paris Agreement targets.
"On a positive note, the growth in electricity produced from renewables grew 7% from 2017 to 2018, more than twice as fast that from fossil fuel-sourced power," said Hare.
Stay informed
Subscribe to our newsletter