Published 2019/06/19
Climate crisis demands more government action as emissions rise
Summary
The last year has seen growing public concern and the formation of global movements pushing governments for serious action in the face of rising emissions and escalating climate impacts.
2018 saw energy-related emissions reach yet another historic high after significant net greenhouse gas increases, 85% of which came from the US, India and China. Coal reversed its recent decline and was responsible for over a third of CO2 emissions. At the same time there was a huge 4.6% surge in natural gas CO2 emissions and an associated rise in atmospheric methane. This, plus a stagnation in the number of renewable energy installations, make it clear that governments must do a lot more to address the climate crisis.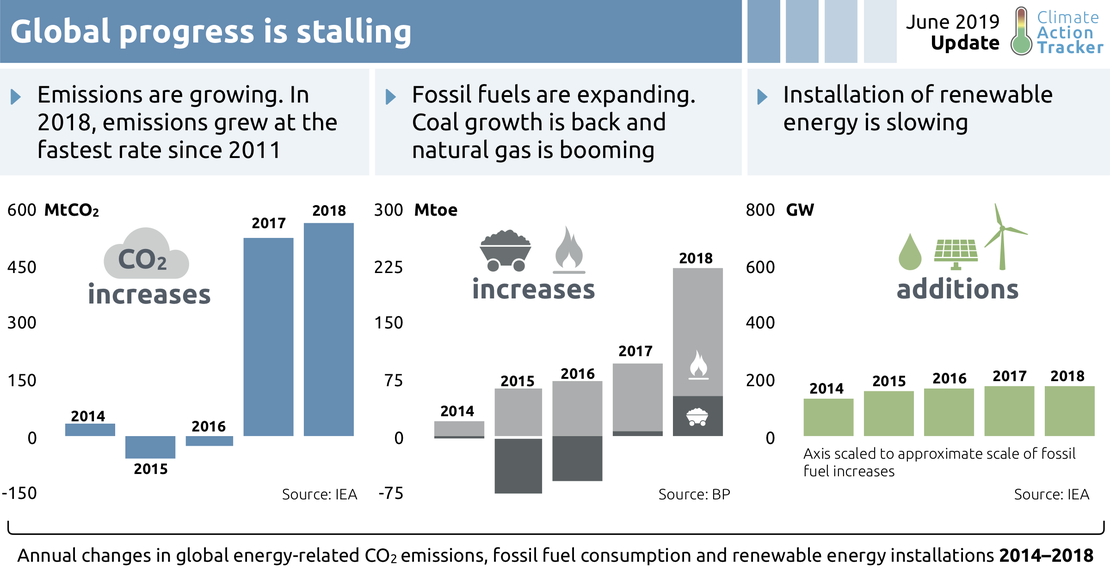 The urgency of the climate crisis demands bold and immediate action
It was already clear in Paris in 2015 that the national climate targets, in aggregate, were not enough to be consistent with the Paris Agreement's long-term 1.5˚C temperature goal. The IPCC Special Report on 1.5°C made it clear: there is no more time to rely on incremental steps. In the face of the climate crisis, significant, bold climate action is necessary.
In the 2009 Copenhagen Accord, the world aimed to halve global emissions by 2050. Now with delayed action global emissions need to be halved in ten years to meet the 1.5°C warming limit. As we are turning from climate change to a climate crisis, bolder and bigger steps are required from decision-makers.
Governments must strengthen their Paris targets
In previous assessments, the Climate Action Tracker has identified that the vast majority of countries have targets that are woefully inadequate and, collectively, have no chance of meeting the 1.5°C temperature goal of the Paris Agreement.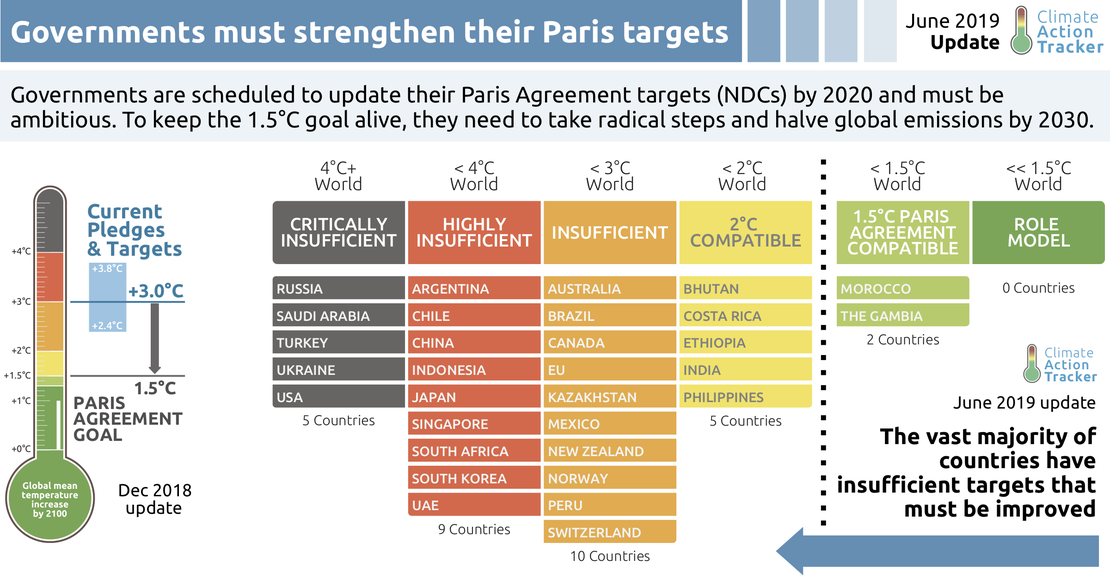 This is a call for governments all over to step up their game. In particular focus are those governments that have previously presented inadequate NDCs. The CAT-rated "critically insufficient" examples are Russia, Saudi Arabia, Turkey, Ukraine and the USA.
Equally, there are a number of governments that are likely to meet - or bring their emissions close to - their NDCs without implementing any more national policies, a strong indication that they have not yet reached their "highest possible ambition" as stated in the Paris Agreement and could do well to increase their targets; examples are India, EU and China.
2020 will see an opportunity for governments to update their targets. Up to 80 may announce new targets later this year at the UN Secretary General's Summit in September. A number of countries are beginning to discuss net zero targets, mostly by the year 2050, but most governments are nowhere near taking the radical steps required, especially given that global emissions need to halve by 2030 in order to keep the goal of 1.5°C alive.
Recent developments

There have been many developments at a national and sub-national level. For this update, the CAT has assessed 24 of the 32 countries we cover and you can see an overview of all assessments using the button immediately below. Underneath is a selection of highlights with very short summaries and you can click on each country name to view the full assessment (we do not assess Germany and the UK).

Re-election of coalition government makes progress unlikely
The government has effectively turned its back on any serious attempts of action and is instead relying on "carrying over" surplus emissions units from the Kyoto Protocol as emissions continue to rise.

President Bolsonaro continues reversal of environmental policies
Deforestation has begun a rapid rise after the progress made since 2005 and the new administration has already taken steps to weaken key environmental policies and institutions.

Upcoming October election will determine Canada's direction
The Federal government, playing catch-up on climate, is attempting to implement a number of policies in the face of pushback from some provinces, especially on the mandatory carbon pricing system.

Plans to phase out coal by 2040 and achieve carbon neutrality by 2050
Chile, hosts of the upcoming COP25, announced plans to close 8 of its 28 coal power plants by 2024, equivalent to 20% of its current coal electricity capacity. This could bring it close to a 1.5˚C pathway.

Second year of emissions growth as coal power plant construction ban lifted
China's policies have a huge global impact. It is discouraging that China is continuing to increase its huge coal power plant fleet by 235 GW and is involved in another 102 GW of construction overseas.

Freshly-announced National Decarbonisation Plan 2018-2050
Costa Rica's new decarbonisation goal by 2050 includes a plan with specific policies in the most polluting sectors, bringing its policies very close to a CAT 1.5˚C Paris Agreement-compatible rating.

Discussing long-term goal while revitalising its Emissions Trading Scheme
A number of new pieces of legislation have been adopted, including new emissions reduction goals for vehicles and discussion on long-term strategy has revealed a shift in dynamics between member states.

Germany
At a crossroads, with plans to adopt overarching climate law by end of 2019
The government has already acknowledged that it will not meet its 40% target for 2020 but intends to adopt a national climate law and coal phase out.

On track to become a global renewable energy leader
The ramp up of renewables has continued after the third straight year of RE investment topping fossil fuels. Uncertainty over the future of coal and transport remains. NDC could be much stronger.

Fossil fuel exporter ponders its future
Indonesia is currently developing both its next five-year plan and its long-term vision and much hinges on where it invests. Plans to expand its coal power plant fleet remain despite overcapacity.

Zero Carbon Bill to deliver net-zero emissions by 2050
The newly-introduced bill proposes achieving net zero emissions by 2050 is a big step, but it excludes methane emissions from agriculture and waste, which are the subject of a separate 2050 target.

Coal dominant country plans a shift towards renewables
The government's Integrated Resource Plan includes a shift away from coal, halting nuclear expansion and increased adoption of renewables and gas. But will the new energy minister adopt it?

UK
Draft legislation for net-zero goal by 2050
The UK Parliament has declared a Climate Emergency, and PM May has placed draft legislation in front of parliament to achieve net zero emissions by 2050, making it the first G20 economy to do so.

Trump Administration continues rollback of policy amid Green New Deal debate
Calls for net zero emissions through a "Green New Deal" spark debate while oil & gas production records largest ever increase by any country and weakened federal policies potentially cancel state gains.
Stay informed
Subscribe to our newsletter