Did not increase ambition*
Japan's updated NDC fails to increase action, undermines Paris Agreement
Japan announced its update NDC in March 2020. Japan's target remains unchanged as does its CAT rating of 'Highly Insufficient'. The failure to increase its emissions mitigation ambition for 2030 breaks the Paris Agreement's requirement that each successive NDC should present a progression beyond the current one in terms of ambition.
Scroll down for a detailed analysis of Japan's NDC update or click the button to view the latest CAT assessment for Japan.
CAT analysis of NDC update


On March 30, in the midst of the coronavirus outbreak, Japan announced its unchanged, 'highly insufficient' NDC, of 26% below 2013 levels by 2030. The updated NDC was accompanied by a message from Minister of the Environment, Shinjiro Koizumi.
Japan's updated NDC emphasises that Japan has reduced its emissions in recent years. The government's preliminary figures show reductions of 12% from fiscal year (FY) 2013 levels in FY 2018, and it claimed that Japan 'contributed to reducing global GHG emissions'. The Japanese government does not seem to understand that a fair contribution from Japan to the Paris climate goals requires significantly higher emission reduction rates.
Japan's failure to increase its 2030 mitigation ambition breaks the Paris Agreement's requirement that each successive NDC should present a progression. This sends a very bad signal that one of the world's major economies plans to not step up to meet the requirement that countries submit more ambitious NDCs in 2020.
The message from the Environment Minister is also disappointing, saying the updated NDC is 'an announcement of Japan's determination to start the process to further enhancing emission reduction efforts that goes beyond its Intended Nationally Determined Contribution (INDC) submitted in 2015' – which is almost meaningless.
Unfortunately, Japan's updated NDC and the Minister's message did not reflect Koizumi's ambition to curb coal-fired power deployment domestically and overseas. Japan still has time to scale up its climate ambition and resubmit a strengthened NDC before the end of 2020, in line with the Paris Agreement.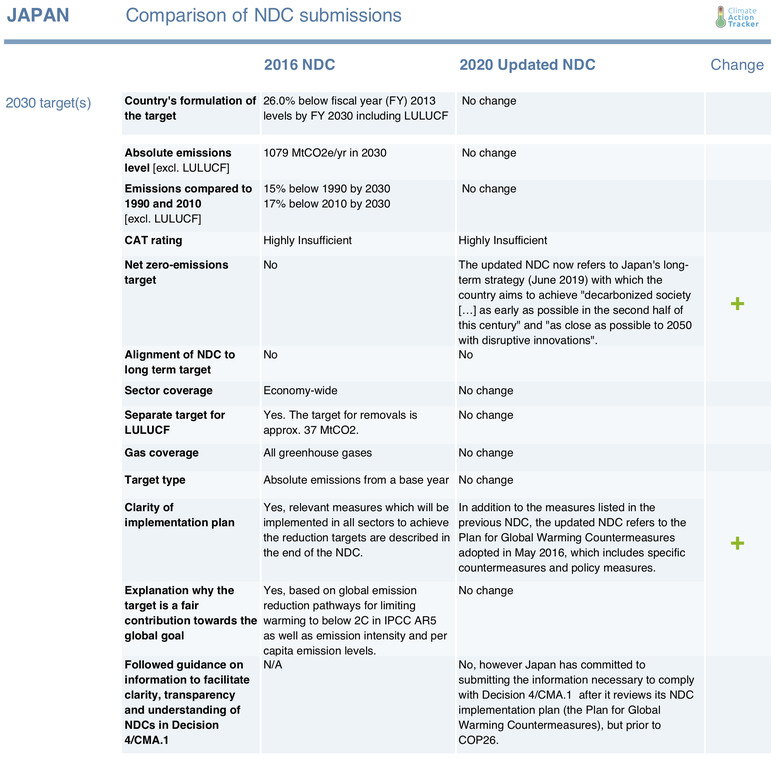 High resolution
Stay informed
Subscribe to our newsletter