Summary
We evaluate the net zero target as: Poor.
China's President Xi Jinping first announced China's commitment to reach "carbon neutrality before 2060" in a declaration at the UN General Assembly in September 2020 and China has since officially submitted its target to the UNFCCC in October 2021 (Government of China, 2021). The target is not yet enshrined in law. The LTS seems to confirm the target's emissions coverage only for carbon dioxide, whereas the CAT previously assumed emissions coverage was for all GHGs. A net zero target aiming for zero carbon dioxide emissions in 2060 would mean that other countries have to reach net zero CO2 well before 2050. If China's net zero target were to cover all GHG emissions, its long-term strategy could be within range of mid-century Paris Agreement compatible emissions levels, although compatibility also depends on the shape of the pathway (Yvonne Deng et al., 2020). Due to the size of China's emissions, this difference can make up to 0.1°C more or less warming in 2100.
Due to the LTS submission not meeting the majority of our considerations for a best-practice approach in LTS formulation, we evaluate China's net-zero target as "Poor".
Ten key elements
Scope
Target year – China aims to reach carbon neutrality before 2060
Emissions coverage – China has committed to reaching "carbon neutrality" before 2060, which normally implies all sources and sinks of carbon dioxide emissions are covered, but not other greenhouse gases. We assume the target covers carbon dioxide only until explicitly stated otherwise, given the explicit reference to 'carbon neutrality', its linking to the 2030 carbon dioxide peaking NDC target, and separate discussion on non-CO2 emissions. Due to the large percentage of non-CO2 gases in China's emissions,
International aviation and shipping – China provides no information on whether it intends to cover international aviation and shipping.
Reductions or removals outside of own territory – China provides no information on its intention to use international offset credits to meet its net zero target.
Target architecture
Legal status – China has officially submitted an LTS to the UNFCCC in October 2021 but has yet to pass its net zero target into law (Government of China, 2021).
Separate reduction & removal targets – China provides no information on whether it intends to communicate separate emission reduction and removal targets.
Review process – China provides no information on whether it intends to establish a review cycle for its net zero and intermediate targets.
Transparency
Carbon dioxide removal – China provides no information whether it intends to communicate transparent assumptions on carbon dioxide removals aside from general statements on its intended dependence on increasing natural carbon sinks and technology-based solutions including CCUS in electric power, steel, cement and chemical industries.
Comprehensive planning – The LT-LEDS submission pledges to reach peak carbon emissions by 2030, which is also iterated in other policy documents such as China's 14th FYP (2021-2025) (Murphy, 2021; Xinhua News Agency, 2021). No other intermediate targets were given, nor were measures outlined aside from an additional target from the LTS stating a target to have over 80% non-fossil energy consumption by 2060. While several scenario pathways towards 2060 have been developed, the government has not officially adopted any.
Clarity on fairness of target – China provides little information on its intention to explain the target's fairness, although the LTS contains direct references to fairness considerations. There is no explicit explanation on why China's 2060 target can be considered fair.
Good practice
The Climate Action Tracker has defined the following good practice for all ten key elements of net zero targets. Countries can refer to this good practice to design or enhance its net-zero targets.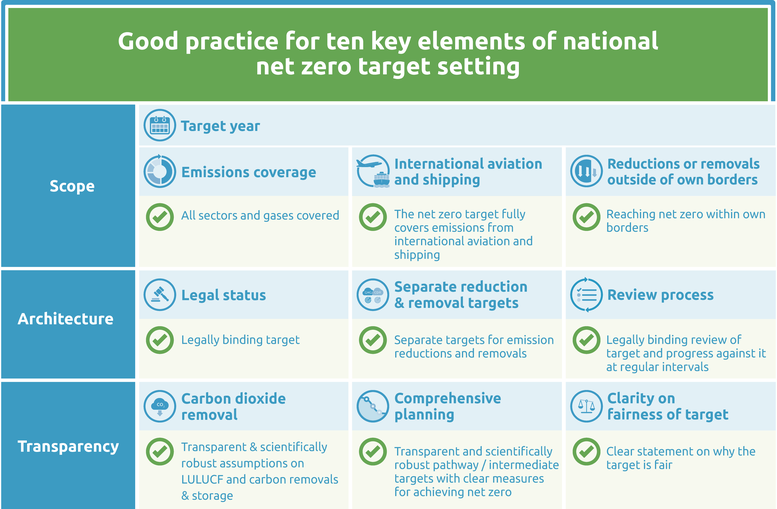 Stay informed
Subscribe to our newsletter