Summary
We evaluate the net zero target as: Average.
Switzerland committed to a net zero target as part of its long-term strategy submitted to the UNFCCC. The net zero target generally covers key elements but fails to meet best practice standards for some of them.
Switzerland's target covers all sectors and gases underpinned by emissions pathway analysis and the communication of clear strategic goals and emissions targets per sector. International aviation and shipping attributable to Switzerland are also covered by the target's scope.
However, the Swiss government currently fails to provide explicit and transparent assumptions on several key elements. Strikingly, Switzerland has not set up a periodic reviewing cycle of measures and interim targets. The proposed measures aim to achieve net zero on Switzerland's own territory, but it reserves the right to use international offset credits, even if only for technically unavoidable domestic emissions.
While extensively outlining challenges ahead and sketching technological opportunities, Switzerland's strategy fails to articulate detailed action pathways and quantified measures. The policy document has also not yet been enshrined in law, which could make targets and measures legally binding and more transparent.
CAT analysis of net zero target
Ten key elements
Scope
Target year – Switzerland aims to reach net zero by 2050.
Emissions coverage – The target covers all GHG emissions (i.e., the 7 Kyoto gases: CO2, CH4, N2O, HFCs, PFCs, SF6, NF3) and all sectors of the economy (excluding international bunkers).
International aviation and shipping – The target covers both international aviation and shipping attributable to Switzerland.
Reductions or removals outside of own borders – Switzerland plans to reach net zero emissions mostly through domestic action but intends to make limited use of removals outside of its own borders. These use of emissions-reducing measures abroad are reserved only for technically unavoidable emissions. The explicit reference to international offsets for achieving its 2030 emissions reduction target is not taken to imply a similar commitment relating to achieving its 2050 target.
Target architecture
Legal status – The Swiss Federal Council adopted the net zero target in its "Long-Term Climate Strategy for Switzerland" (Swiss Federal Council, 2021).
Separate reduction & removal targets – Switzerland specifies separate emission reduction and removal targets. In its LTS, Switzerland outlines possible targets for emissions avoidance through CCS per sector for 2050.
Review process – Switzerland provides no information on its intention to establish a review cycle for its net zero and intermediate targets.
Transparency
Carbon dioxide removal – Switzerland does not provide transparent assumptions on carbon dioxide removals, despite highlighting the importance and role of land use and forestry as carbon sinks throughout its strategy. A recent report detailing plans to specify targets for CCS to 2050 was released by the Swiss government in May 2022. This report claims up to 3 MtCO2 of storage in 2050 is possible (Swiss Government, 2022).
Comprehensive planning – Switzerland provides strategic goals and emissions targets per individual sectors and comprehensively outlines the respective challenges. For example, Switzerland pursues the objective of having a net zero buildings sector by 2050, 90% emissions reduction below 1990 levels in the industry sector by 2050, and land transport that does not generate emissions in 2050 with few exceptions. In doing so, Switzerland elicits some actionable medium-term measures to reach net zero in the long term but only with limited detail. Overall, much of the strategy outlines technological possibilities without committing to concrete action pathways.
Clarity on fairness of target – Switzerland makes no reference to fairness or equity in the context of its net zero target. It does not address the gap between its net zero target considered realistic domestically and what would be a fair target.
For further information on the targets Switzerland has adopted, see the targets tab here.
Good practice
The Climate Action Tracker has defined the following good practice for all ten key elements of net zero targets. Countries can refer to this good practice to design or enhance their net zero targets.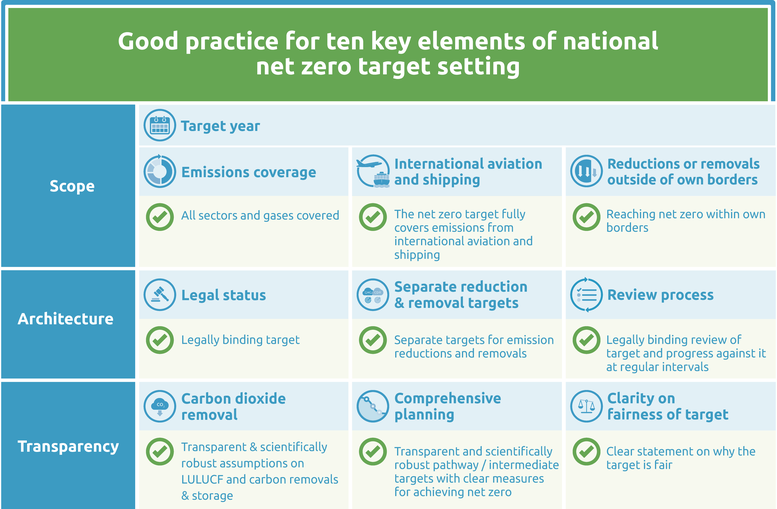 High resolution
Stay informed
Subscribe to our newsletter