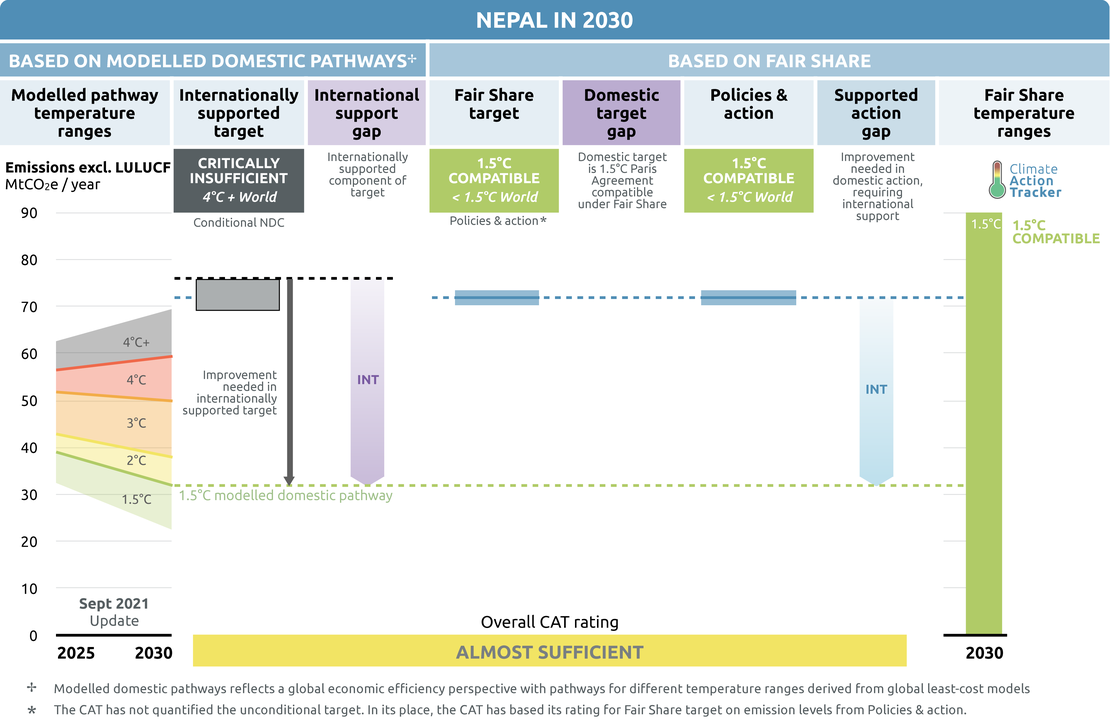 Paris Agreement targets
NDC description
On December 8, 2020 Nepal submitted its second NDC to the UNFCCC. This NDC represents a step forward from its predecessor, as it now contains quantitative activity-based and policy targets in key sectors, and for the first time, some of the energy-related targets are listed as an unconditional commitment.
Nepal's unconditional target is to build 5000MW of clean energy generation by 2030 using its own resources. This target is part of a largely objective of reaching 15,000MW of clean energy by 2030 from a base 1,400MW with international support. We have not quantified this target in terms of emission level.
Nepal's conditional target is based on a number of sector-specific targets. According to our calculations, the new conditional NDC would reduce 1.9 – 5.6 MtCO2e, leading to emissions levels between 69 - 76 MtCO2e in 2030 depending on the interpretation of the sectoral targets and the overlaps with the energy sector targets. The NDC provided limited details on some of the sectoral target, so it was not possible to estimate the impact of all of them. In particular, the first 'energy generation' target (expand clean energy generation from 1,400 MW to 15,000 MW) and the second target for the transport sector (develop 200 km of the electric rail network) were not quantified. This means the total reduction under the conditional NDC could potentially be higher than our estimates.
The CAT rates Nepal's conditional target as "Critically insufficient" when rated against modelled domestic pathways ("internationally supported target") and its unconditional target as "1.5°C Compatible" when rated against what its fair share contribution would be ("fair share target").
Internationally supported target

Critically insufficient
Nepal's conditional target is "Critically insufficient". The "Critically insufficient" rating indicates that Nepal's internationally supported target in 2030 reflects minimal to no action and is not at all consistent with the 1.5°C temperature limit. If all countries were to follow Nepal's approach, warming would exceed 4°C.
Not all sector measures have been included in our assessment of Nepal's conditional target. Nepal is encouraged to provide further information on the quantification of its NDC and to exceed this target with international support.
Fair share target

1.5°C compatible
Nepal's unconditional target is "1.5°C compatible". The "1.5°C compatible" rating indicates that Nepal's fair share target is consistent with limiting warming to 1.5°C. Nepal's fair share target does not require other countries to make comparably deeper reductions or greater effort, and is in the most stringent part of its Fair Share range.
The CAT has not quantified Nepal's unconditional target; however, our current policy projection and the conditional target both fall within the 1.5°C compatible range.
Further information on how the CAT rates countries (against modelled domestic pathways and fair share) can be found here.
---
Last NDC update
Nepal has submitted its second NDC. The NDC update has strengthened the country's 2030 target in many aspects, including transparency, more quantifiable targets, sector coverage and reference to a net zero target. For a comparison to its first NDC, see our analysis on the CAT Climate Target Update Tracker page.

Net zero and other long-term target(s)
According to its second NDC, Nepal is in the process of formulating a long-term low greenhouse gas (GHG) emission development strategy to be ready this year and aiming to achieve net-zero GHG emissions by 2050.
Stay informed
Subscribe to our newsletter